Speedivalve
Edwards SP Speedivalves are diaphragm sealed in-line, isolation valves. The construction consists essentially of a flexible elastomeric dia-phragm which is sealed onto a lightlypolished seat by a screw thread mechanism. The mechanism is isolated from the system bythe diaphragm resulting in an extremely rugged and 'dirty' system tolerant valve.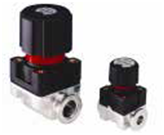 The valve terminates in NW flanges and can be pipeline supported or panel mounted.
(SP40K is pipeline supported only).
Features & Benefits
- Easy to operate with visual indication of valve open (SP10K to SP25K)
- Leak tight to better than 10-6 mbar ls-1 / 8 x 10-7Torr ls-1
- Diaphragm completely isolates mechanism from vacuum system
- Extremely rugged and 'dirty' system tolerant
- Will withstand 9 bar overpressure (SP10K to SP40K, with Co-Seal)
Model available
SP10K, SP16K, SP25K & SP40K
IBV series vacuum ball valves
Ball valves are popular in applications where fast action and full bore pumping are needed.The Edwards IBV series valves combine these practical everyday features plus ease of useand economy in a high specification design. Manufactured in 316L stainless steel with PTFE seats they deliver robust performance in a wide variety of vacuum duties.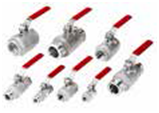 Features & Benefits
- Low capital cost
- Convenient NW16, 25, 40, 50 sizes
- Optional BSP threaded versions
- Easy to use manual operation
- High conductance full bore pumping
Model available
IBV16MKS, IBV16MS, IBV25MKS, IBV25MS, IBV40MKS, IBV40MS, IBV50MKS, IBV50MS
PVMK& IPVMK Manual Operation Right Angle & In-line Isolation Valves
The PVMK& IPVMK is a quick acting, bellows sealed, right-angled lever operated valve and isavailable with either an Aluminium or stainless steel body. The lever, connected to a selflubricatingplastic cam-piston, actuates the valve stem and valve plate through PTFEbearings. The valve plate 'O' ring groove is vented to prevent gas bursts. The valves aredesigned to operate down to 10- 9mbar / 8 x 10-10Torr and up to a pressure of 2100 mbar /1575 Torr (30 psi)
Model available
PV10MKA, PV16MKA, PV25MKA, PV40MKA
PV16MKS, PV25MKS, PV40MKS, PV50MKS
IPV16MKA, IPV25MKA, IPV40MKA
IPV16MKS, IPV25MKS, IPV40MKS