QSB Quarter Swing Butterfly Valve
The QSB quarter swing valves are compact, quick acting, high conductance isolationvalves. The QSB valves have a polished, stainless steel, ISO flanged body withfluoroelastomer 'O' ring sealed valve plate and shaft. The valve plate 'O' ring groove isvented to help maintain a stable high vacuum. The valve shaft 'O' rings and bearings arelubricated with Fomblin® grease to prevent gas bursts from behind the shaft seals.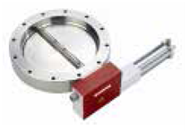 This valve
is supplied with a Co-Seal.
Features & Benefits
- Manual operation
- High conductivity
- Resists atmosphere in either direction
- Compact and quick acting
- Corrosion resistant construction
Model available
QSB63, QSB100, QSB160
QSB63P, QSB100P, QSB160P