Turbo Pump Stations
The T-Station 75 is Edwards's new entry level Turbopumping system. It combines our proven EXT75DX with a choice of either an oil sealed E2M1.5 backing pump or an XDD1 diaphragm pump where a totally dry solution is desired. The T-Station comes with our new TAG (Turbo and Active Gauge) controller fitted as standard which enables single button start/stop of the system, the ability to control one of our Active Gauges*, vent valve control*, and delayed start to either time or pressure if a gauge is fitted making the T-Station ideal for general laboratory needs.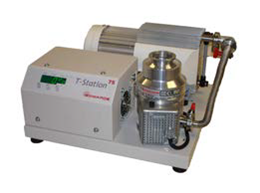 * Gauges and TAV5 vent valve must be purchased separately.
For pumping speeds of 240 l
s-1 to 400 l s-1 the new turbopumping stations are based on our nEXT pumps offering the additional
flexibility of end-user serviceability plus a choice of backing pumps and a Turbo and Instrument TIC200.
Turbopumping stations fitted with E2M1.5 or RV pumps come with an EMF mist filter fitted, and those fitted with our class leading XDS scroll pumps have an isolation valve fitted between the turbopump and backing pump as standard.
All turbopumping stations include 4 locking castor wheels, a benchtop mounting kit, built in air cooling
Features & Benefits
Fully assembled and ready to use
Control of turbopump, backing pump and optional gauge from integrated controller
NW40, ISO63 or CF63 inlet flanges
Choice of backing pumps, E2M1.5 oil sealed pump T-Station 75W or XDD1 diaphragm pump T-Station 75D
Delayed turbo start option for pumping larger volumes
Where nEXT is fitted the turbopump is fully end user-serviceable
Control of the turbopump, backing pump and gauges from the integrated TIC
Serial communication control available with RS232 and RS485 (Windows software included)
Dry pumping options with XDD1, XDS5 and XDS10