The Stokes Microvac rotary piston pump sets the standard for performance and reliability as the industries most efficient, space-saving design. The Stokes Microvac rotary piston pumphas been improved, upgraded, and fine-tuned to deliver even better dependability and productivity combined with minimal maintenance and process downtime.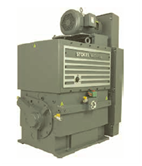 An integral oil distribution system eliminates external piping and delivers leak-free operation in a stylized design. A stiffer motor mounting platform cuts flexibility to minimize motor beltwear. A stylized oil reservoir cover and side cover 'O' rings improve sealing to eliminate oil leakage. An integral gas ballast valve built into the side cover allows quick adaptation to automatic gas ballast.
Models Available
212J, 412J, 612J, 912J
Combination
Whether you need to increase the capacity of your existing system or achieve peakperformance for a new installation; Edwards makes

taking advantage of the latesttechnology easy. These field-proven pumping systems are the workhorse of countlessindustrial and large chamber applications. Each Stokes1700 series mechanical boosterpump combination includes a Stokes Microvac backing pump and a belt driven, horizontalflow, high vacuum Stokes 6" series mechanical booster pump. In harsh applications wherechemical or particulate contamination is present, process isolation boosters are available asan option. Controls for Stokes
1700 series mechanical booster pump combination include apressure
switch, motor starters, overloads, remote booster selection switch and lights forpump running and fault indication.
Models Available
412MBX, 612MBX
1721 combination, 1721S combination, 1722 combination, 1722S combination, 1733 combination,
1733HC combination, 1733HD combination, 1738 combination, 1738BP combination, 1738HC combination, 1738 HCBP combination, 1738HD combination, 1738 HDBP combination, 1739 combination,
1739BP combination, 1739HC combination, 1739 HCBP combination, 1739HD combination,
1739 HDBP combination, 1754 combination, 1754HC combination
Features & Benefits
• Efficient, time proven design to deliver ease of maintenance
• Low 500 rpm operation for longest pump life cycle
• Low ultimate blank-off – pressures down to < 10-2 Torr
• Robust cast and ductile iron construction
• Hardened replaceable shaft sleeve enhances wear resistance
• Efficient design provides maximum uptime with minimal movingparts, low rotational speed and large clearance
• New valve design virtually eliminates valve maintenance and noise
• Application specific seals maximize resistance to heat and corrosion while providing protection from gas stream oil
contamination
• Standard, totally enclosed fan-cooled motors
• Space saving design – saves up to 50% of valuable floor space
• Complete and self-contained – delivered and ready to install
• Automatic lubrication – system provides proper flow of oil to bearings and sealing surfaces, prevents back flow into system
• Controlled balancing – reduces vibration to a practical minimum
• Gas ballast- standard on all models
• Total capability – includes the manufacturing and service capabilities to keep your equipment in top operation – with a broadrange of vacuum system accessories
• Oxygen service models available
Applications
- Automotive
- General applications
- Metallurgy
- Vacuum coating
- Vacuum melting
- Chemical processing
- Heat treatment
- Leak detection
- PET processing
- Pharmaceuticals
- Transformer drying and cable fluid conditioning
Click the download button to know more info ... Download