The new compact EPX high vacuum drypump offers enhanced performance withreduced cost of ownership. Using a unique patent protected mechanism the EPX iscapable of pumping from atmosphere to ultimate pressures of <7 x 10-5 Torr.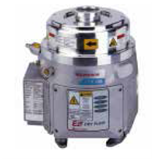 Based on the successful award winning IPX range, the modular EPX offers outstandingperformance in a package that is 20% lighter, 30% smaller and requires 40% less powerthan the IPX.
The EPX LE& EPX NE series of pumps has an End User Controller (EUC). The End User Controllerenables local control for stand-alone use as well as the ability to connect to a fab-widenetwork for remote control and monitoring.
Features & Benefits
- Compact footprint – as one of the smallest on-tool pumpsavailable, the EPX offers outstanding savings in footprint. EPXcan be mounted directly onto the tool saving foreline andinstallations costs or remotely if preferred.
- Low cost of ownership – EPX requires only 1.4 kW of power andincorporating idle mode to maximize power efficiency.
- Unique patent protected pumping mechanism – the EPX canpump down from atmosphere to turbomolecular base pressureand can operatecontinuously at all inlet pressures.
- Ultra clean mechanism – conventional high vacuum bearingsunder grease use grease lubrication which can be a source ofcontamination in process tools. EPX pumps have no highvacuum bearings under grease and present no other source ofpotential contamination.
- Extremely reliable – based on field proven IPX technology, theEPX has aMTBFp= 13 years (SEMI E10) with service periods ofaround every
5 years to maximize the life of the pump.
EPX/EPX LE Application
The EPX series covers a broad range of applications from wafer handling through to medium duty processes.
The EPX 'L' Series has been designed for use clean duty applications pumping inert gas mixtures, such as loadlock, whereby control is provided by the process tool interface.
EPX N/EPX NE Application
- Load Lock
- Transfer Chamber
- PVD sputtering
- Ashing/PR Strip
- Dielectric Etch
Models Available
EPX180L, EPX180LE, EPX180N, EPX180NE
EPX500L, EPX500LE, EPX500N, EPX500NE