The EV rotary vane pumps are designed to be used in a wide range of industrial and scientific applications. They can be used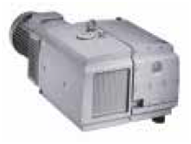 individually or with mechanical booster pumps to increase both performance and ultimate vacuum. They can operate continuously from atmosphere to ultimate.
With reliability and ease of service in mind, the EV range of pumps are designed for the industrial and scientific markets. Edwards Applications Specialists have unrivalled knowledge and can advise on pump selection, configuration and operation to suit any customers' requirements. The EV range can be supplied individually or as part of preengineered combinations using Edwards EH mechanical boosters.
Models Available
EV40, EV70, EV100, EV160, EV200, EV300, EV400, EV630 
Combination
Our comprehensive range of EV pumps and mechanical boosters, complete with connection kits to mount the mechanical booster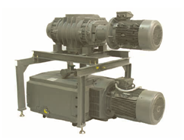 allows the user to specify a complete system. The fitting of a mechanical booster to an EV rotary vane pump significantly increases pumping speed and vacuum performance of the system, as well as increasing the ultimate vacuum attainable by approximately one decade of pressure.
Specifying a combination is simply a process of selecting the EV pump, selecting the required mechanical booster (from catalogue)and the appropriate connection kit shown below. The connection kits are supplied as a kit of parts that allows them to be easily assembled, together with the EV pump and mechanical booster on site. Clear and concise instructions are included with the kits to make this a very simple process.
Features & Benefits
_ Continuous operation from atmosphere to ultimate vacuum
_ High pumping speed at low pressure
_ Gas ballast valve fitted as standard
_ Low noise and vibration
_ Air cooled
Applications
_ Furnaces and metallurgy industries
_ Food processing and packaging
_ Lifting
_ Vacuum coating
_ Vacuum transporting
Click the download button to know more info ... Download