iXL120 Dry Pump System
iXL120 is a compact, low energy, 110 m3h-1 dry pump for wafer handling and other clean duty applications. It provides fast pump down of load lock chambers with extremely low energy consumption.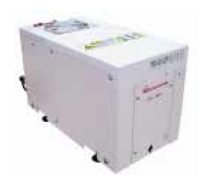 iXL120 is one of the smallest and lightest pumps available for load lock and clean applications. Its low vibration and low noise levels make it ideal for mounting on-tool or within a fab's waffle floor, helping to save valuable fab floor space. A Green Mode allows reduced utilities usage during idle periods, lowering utility costs and helping to save the environment!.
Features & Benefits
– Class leading chamber pump down time reduces Total Average Cycle Time (TACT)
– Only 0.55kW power consumption helps minimise customer cost of ownership
– Green Mode can reduce power consumption by up to 92% during idle periods
– Up to 35oC water supply helps reduce facility cooling water requirements
– Extremely small and light, helping to save valuable fab space
iXL120