Edwards E2M series two stage oil sealed rotary vane vacuum pumps are renowned for their high ultimate vacuum, rapid pumping speeds, quiet operation and ability to handle water vapour. These direct drive rotary vane pumps are inherently compact and vibration free, and with their finger-proof fan and coupling housings they offer excellent operator protection.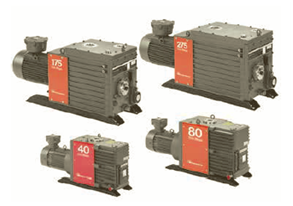 A comprehensive range of accessories is available to allow use on the widest variety of vacuum applications.
Supplied with Ultragrade70 Oil. Fomblin® must be purchased separately for PFPE prepared pumps E2M40FX, E2M80FX, and E2M175FX.
Models Available
E2M40, E2M40FX, E2M40T4
E2M80, E2M80FX, E2M80T4
E2M175, E2M175FX, E2M175T3
E2M275, E2M275T3
Features & Benefits
Advanced pressurised oil circuit to give effective lubrication even under high gas loads
When the pump is switched off, the spring loaded distributor valve provides oil and air suck-back protection
Gas Ballast control to assist in handling high water vapour loads
Industrial roller bearings on drive shaft for ultimate reliability and long, trouble free life
Full height oil sight glass for easy checking of oil level and condition
Applications
Vacuum metallurgy processes
Thin film coating technologies
Pharmaceutical freeze drying
Refrigeration and air conditioning system evacuation, drying, and back filling
Transformer and cable drying and impregnation, insulating oil treatment plant
Click the download button to know more info ... Download