Thermal Evaporators is a versatile Front Loading Thin Film System designed for research and development purposes. The chamber can easily accommodate large diameter substrates and can be used to combine with other components to perform electron beam evaporation and magnetron sputtering, all without breaking the vacuum.
About Daily Technologies Pte. Ltd.
We are the exclusive Edwards Vacuum distributor in Singapore and we are competent with high vacuum and rough vacuum systems and components. Our core competencies includes :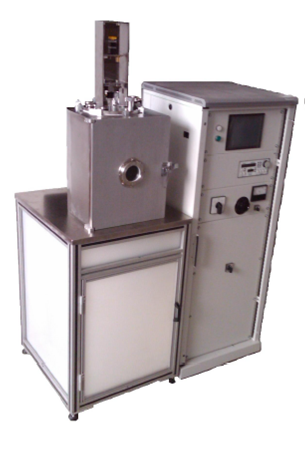 1) Vacuum System repair/diagnosis
2) Refurbishment and Customisation of vacuum systems
3) PVD systems manufacturing and design
4) Sales and Distribution of Vacuum components such as fittings and valves.
5) Sales and Service of vacuum pumps.
Features and Benefits
Large Chamber
Front Loading for Easy Access.
Extra feed through holes for upgrades
Standard Turbo Molecular pumped or optional Cryopumped.
Automatic PLC controlled Vacuum sequence with touch screen control.
Applications
Anti-reflective coatings
Semiconductors
Mirrors
Organics, polymers and OLEDS
Solar cells
Nanotechnology
Compound Semiconductors
Vacuum Technology
The front loading chamber is mounted on an aluminum profile pedestal structure with wheels and a stainless steel worktop.
The structure houses the pumping system and its accessories.
Pure stainless steel piping are used throughout, guaranteeing excellent vacuum performance.
All thin film accessories and vacuum components can be upgraded in the future.
Specifications
Chamber Electro Polished SS304
External 400 mm (w) x
500mm (h)
Internal 380 mm (w) x
480 mm (h)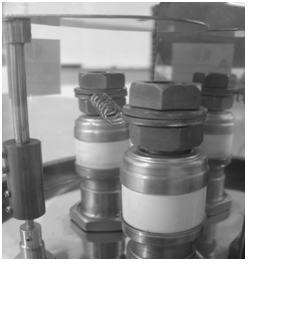 View Port 100mm (3.9") Diameter
Chamber Wall Access Port 1 x NW25
Top Plate
Access port 3 x NW25, 3 x 1" Port
Workholder Plate Std 260 mm (dia)
Max 380mm (dia)
Ultimate Vacuum
5 x 10-7 mBar (TMP version), E-8 mBar with LN2 Trap
5 x 10-8 mBar (Cryo version)
Pumpdown (TMP Version)
5 x 10-6 mBar in <30 mins, 1.5 x 10-6 mBar in <40 mins
Vacuum Pumping Options
Rough Pump Options
Rotary Vane Pumps with oil mist filter and foreline trap.
Dry Scroll Pump.
High Vacuum Pump Options
500 l /s Turbo Pump with LN2 cold trap
1500 l/s Cryopump
Thin Film Monitoring
Inficon SQM160
0.6A/s (std) or 0.037 A/s (HiRes) Rate Resolution
0.15A (std) or 0.037A (HiRes) Thickness Resolution
99 Stored Films Memory
Stage
Rotation from 0 to 30 RPM
Handles Odd shapes and also large diameter wafers.
Source to Substrate Distance
Adjustable from 200mm to 250mm
Standard Parts
VAT ElectroPneumatic actuated Vacuum Angle and inline valves.
1 x Interlocked N2 Venting with PARKER ElectroPneumatic Valve.
2 x EDWARDS Active Pirani Gauges for Chamber
1 x EDWARDS Penning Gauge
1 x EDWARDS Vacuum Switch
ElectroPneumatic Shutter Assembly for Sources and Substrate
10Vdc, 90A or 30Vdc, 30A output transformer.for source current.
4 Position Evaporation Source Selector
4 x Evaporation Source with resitive heating.
Inficon Single Crystal deposition controller (water cooled)
OMRON Programmable Logic Controller with Touch Screen