Edwards, a pioneer in dry pumping technology, launches a new generation of dry pumps for industrial applications.
Edwards has over 90 years of experience in harsh process vacuum applications, including dust and process contaminants handling, with more than 150,000 dry pumps installed worldwide.
The GXS industrial dry screw pump incorporates innovative, patented design features that establish a new standard in dry pumping.
Fast – Dry pumping down to 5 x 10-4 mbar / 3.7 x 10-4 Torr ultimate vacuum (without purge)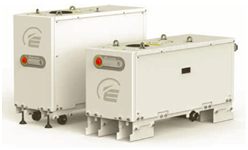 Robust – Reliable operation in harsh industrial applications
Compact – Smaller footprint than pumps of similar capabilities
Economical – Affordable capital investment and low cost of ownership
Environmental – Smooth, quiet running with low power and utilities consumption
Solutions Engineering
The range and complexity of industrial applications means a 'one size fits all' policy does not result in system optimization. A detailed appreciation of the process, environmental and safety issues is required to tailor systems to match performance and process.
Applications Design & Support
Edwards comprehensive design service is based on in-depth knowledge of the industries and applications involved. This expertise is held in the highly focused and experienced applications team, which consists of a Central Applications Group supported by a regional network of Applications Specialists. Proprietary software is used to define pumping requirements and a suite of optional accessories or modules are available. For larger or more unusual applications a custom engineering service is available.
Solutions could cover:
• Process design
• Equipment selection
• Safety and Operating Parameters
• Integration with plant control system(s)
• Commissioning advice and more…
Contact your local office to request an initial discussion with an Applications Specialist. Typically, discussions will include gases / Materials to be pumped, cycle times and duty pressures, system capacities, control systems, utilities, system footprint and all other aspects of the vacuum system to ensure that we are able to offer the most effective solution for your application.
Models Available
GXS160, GXS250, GXS450, GXS750
GXS160/1750, GXS250/2600,
GXS450/2600, GXS450/4200,
GXS750/2600, GXS750/4200
Features & Benefits
- Designed for high reliability
- Adaptable to a wide range of applications
- Long service interval and easy swap out
- Low cost of ownership
- Minimum workplace and environmental impact
Applications
- Solar
- Silicon crystal growing
- Lithium Ion battery manufacture
- Freeze drying
- Pharmaceutical
- Touch display manufacture
- Lamination
- Sterilisation
- Coating
- Metallurgy
Click the download button to know more info ... Download