PVEK& IPVEK Solenoid Operation Right Angle& In-line Isolation valves
The Edwards PVEK& IPVEK series valves are compact, light-weight electromagnetic vacuum valves suitable for use in vacuum pipeline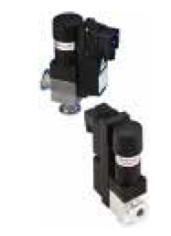 systems down to 1 x 10-9 mbar. A double wound coil combined with an electronic switching circuit ensures low energy consumption, low operating temperatures and extended operating life.
Bellows sealed, the PVEK& IPVEK solenoid operated right angle and In-line valves are available with eitheraluminum (A) or stainless steel (S) bodies, with an overall MTTF of up to 500,000 cycles.
Features & Benefits
- Transient high power for opening – electronically switched
- Low energy consumption in the 'hold open' position

- Enclosure rating to IP55
- Grease free vacuum
- MTTF up to 500000 cycles
Model available
PV10EKA, PV16EKA, PV25EKA, PV40EKA
PV16EKS, PV25EKS, PV40EKS
IPV16EKA, IPV25EKA, IPV40EKA
IPV16EKS, IPV25EKS, IPV40EKS
LCPVEK Solenoid Operation Isolation valves
Edwards' aluminum right angle LCPVEK valves are designed for vacuum applicationswhich need a compact, simple, solenoid operation valve to control gas flow. Theseeconomical valves are ideal for a number of duties ranging from simple laboratory pumpisolation to OEM vacuum system integration and design. Their versatility makes them effective both in vacuum pipelines and in chamber admittance applications.

Careful design of the solenoid power control and vacuum isolation components deliversefficient magnetic actuation with optimum vacuum performance at an affordable price.
Features & Benefits
- Economical design
- Electrical actuation
- Low power requirements
- Electronic boost power supply
- Efficient magnetic design
Model available
LCPV16EKA, LCPV25EKA