BGV Manual/Pneumatic Gate Valves
The BGV basement gate valves are a range of stainless steel, bellows-sealed basementisolation valves. They have been designed, in conjunction with VAT, to enable pumps to bekept running during foreline maintenance in order to maximise the reliability and up-time ofpumps operating on harsh processes. The BGV valves are designed for an operatingpressure range of 1 x 10-9 mbar to 1.2 bar absolute (1 x 10-7 to 1.2 x 105 Pa). The valveswithstand 1.2 bar absolute in either direction and can tolerate against a 1 bar differentialpressure across the valve seal.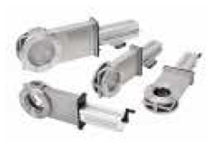 Although principally designed for isolation of pumps in a semiconductor fab basement, theBGV valves are ideal for other applications where a 1 bar differential at opening is desirableand 20000 cycles is acceptable.
Features & Benefits
–       Jointly developed with VAT, a world leader in sealing technology.
–       Stainless steel construction and robust patented design for a long service life
–       Simple grease-free mechanism minimizes damage due to particulates in dusty processes
–       Can be operated with 1 bar pressure differential so pressure equalization is not required
–       Easy servicing with only inexpensive consumables for low cost of ownership
Model available
BGV Manual gate valve NW50
BGV Pneumatic gate valve NW50, ISO63, ISO80, ISO100, ISO160
GV Manual and Pneumatic Gate Valves
The Edwards GV range of stainless steel, bellows sealed gate valves is designed forapplications requiring overall leak tightness and a minimum of hydrocarbon in the residualatmosphere.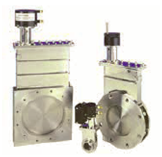 These superior quality valves offer high vacuum integrity coupled with maximum conductance.The valves are available with flange options of ISO, CF (metal sealed) for applications at ultrahigh vacuum requiring increased bakeout temperatures.
The stainless steel valve bodies are vacuum brazed, a specialprocess which includes a bakeout at 1100 °C. This eliminates anypossibility of virtual leaks and ensures a product with low outgassingcharacteristics.
A laser welded stainless steel bellows effectively seals the actuatorfrom the valve. The concept provides ease of servicing and allows thegate and linkage mechanism to be removed while the valve remainsin situ.
Features & Benefits
–       In situ removal of gate and linkage mechanism for easy servicing
–       Virtual leaks eliminated due to vacuum brazed manufacture
–       Electropolished finish inside and outside
–       Compact design with high conductance
–       Manual or pneumatic options
–       Microswitch position indicator as standard on pneumatic version
–       Long periods of use between maintenance
–       Low vibration and shock
–       Free choice of orientation
–       Wide range from 40 mm / 1.56 inch bore up to 320 mm / 12.48 inch bore
–       Flange options – ISO, CF (metal sealed)
–       High reliability – 1000000 cycle option
–       Optional 3 position operation
–       Vacuum brazed to 1100 °C to eliminate virtual leaks
Model available
GVI040, GVI 050, GVI063, GVI080, GVI100, GVI160, GVI200, GVI250, GVI320
GVC015, GVC020, GVC025, GVC040, GVC060, GVC080, GVC100, GVC120